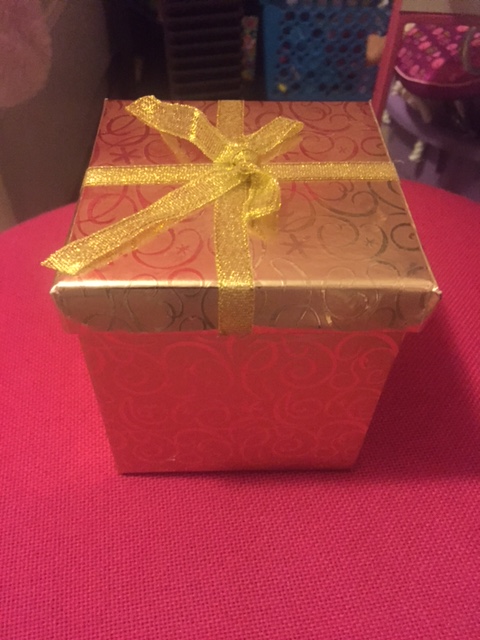 I have been fortunate in my life to experienced so many things and have so many possessions when at one time I could fit everything I had in one small hatchback car. Still I have a long way to go with budgeting in my life so that my family's future will be strong and that is when I began to come up with creative Christmas presents or presents in general that didn't break the bank.
One year one of my daughter's presents was a box of love. I bought a decorated box at the dollar store-literally one dollar, but it looked expensive and typed " love" several times on a piece of paper. I then cut it up filling the box with the word. She was delighted when she opened it on Christmas day because even at her age it was the thought that counted and the creativity. She already knew I loved her and this was just reinforcement and something fun to open. It still sits on her desk in her room so even at nine, it meant a great deal to her.
As most families we have our traditions such as making Christmas candy. We made cookies for a long time and put them into tins and gave them out, but at some point it just wasn't worth it with so many people on diets or allergic to so many things so we have stuck to our Christmas Bark. This is our favorite-Christmas Bark which sounds so impressive, but it is just white chocolate melted (either in a double boiler or slowly in the microwave) and laid onto a pan. First you have to take the candy canes and put them into storage bag and smash them with a rolling pin so that they are ready to be sprinkled over the melted white chocolate immediately when it is still warm.  Then we take our bark and put it into decorated storage bags already for the season. Everyone loves it and it costs very little to make, but the important part is that it is a project you can share with your children and make it into a nice little gift from your heart.
First you want to make a list of who is on your gift list and think about what their hobbies and likes and dislikes are.
Can you make a cup of ingredients like specialized coco and marshmallows and wrap it for the person on your list? Or can you can always add different things like lotions, nail polishes, and loufe sponges in a plastic champagne glass to give the effect that you want your friend to have a spa day or create the famous coupons we all hear about.
I make coupon books on my computer for all types of things. For friends who say, "I hate to ask you, but can you look at my computer and tell me what's wrong with it" to a night of babysitting. Can you watch their dog while they are out of town one night? What about typing a recipe up that everyone says that they love and would do anything to get. Type it up on a nice piece of cardstock and give it in a Christmas card.
Can you have movie night or a game night? I know there is one show that my daughter loves that I hate watching. Seriously, when I first saw this show many years ago, I actually banned it from the house because I saw "no educational value in it" yes, that is actually what I said and my daughter will remind me of it on a regular basis. So she gets a movie/show night coupon that she can watch whatever show she wants for the evening of course within your family rules. She chooses to use to watch a night of Sponge Bob (ARGH) with Pirate Booty popcorn and me actually sitting down on the couch next to her grinding my teeth.  But that is my present so I have to go through with it. I say this because many times I find I say I will watch something, but then I think oh, let me do the dishes or let me start dinner for tomorrow night and I miss some of the show. This ensures I have to sit…I mean… I enjoy watching the show with my daughter sitting right next to her. (smiley face)
Now my daughter just had a birthday too in December, so I created a cd of songs purchased off of ITunes and created her favorite mix. She loved it. In fact she asked me to make copies for her friends that attended her dance party birthday as part of the goody bag.
Just remember that if you make up coupons, they have to be specific and you have to follow through on them. If you say you will vacuum one weekend, you must do that even if you don't feel like it that weekend.
There are so many things that if you sit down and think about it, you can give as presents that actually mean something to your special friend or child and makes them know that you have thought about them. Spending $300.00 on a present is nice, but it is not necessary and especially if that is not in your budget it is not what this time is about.
While as society we have made Christmas a stressful time of Christmas, Christmas comes every year and there is no sense going broke trying to be the best gift giver. It is being the thoughtful gift giver that counts and keeps you on budget.